Dakota's interface allows you to perform a wide range of actions. It also provides detailed information on your game profile.
Here you can see your level and the number of Experience points you have. In addition to that, the menu displays your Prosperity points when you are at your farm, or Comfort points when you are in your house.
2. Energy and Animal Feed
Here you can see the current and maximum amount of Energy and Animal Feed. If you don't have enough of these resources, you can click on the respective "+" sign to buy some!
Maximum energy level increases every few levels
| | |
| --- | --- |
| Level | Energy level |
| 1—3 | 15 |
| 4—6 | 16 |
| 7—10 | 17 |
| 11—15 | 18 |
| 16—20 | 19 |
| 21—25 | 20 |
| 26—30 | 21 |
| 31—40 | 22 |
| 41—50 | 23 |
| 51-60 | 24 |
| 61 and up | 25 |

Here you can manage daily tasks you can perform with your friends: invite new friends, send them gifts, and so on. Also, please note the timer — it shows how much time left before the tasks refresh.
4. Currency: Green Bucks and Gold Coins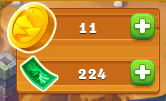 Here you can see how many Green Bucks and Gold Coins you have. You can also buy these resources from this menu if you don't have enough of them — just use the «+» buttons.
Here you can see all quests that are available to you, getting information on their requirements and rewards for completing them.
6. Moving between locations
These buttons allow you to quickly move between your farm, your house and the Adventures.
7. Lucky Wheel, Buildings, Mail, Actions
This menu gives you access to the following features of Dakota:
Lucky Wheel — a mini game where you can use Lucky Tickets to get useful items;
Mail — a place where you can look through your friends' requests and send them gifts;
Actions — use it to move and rotate objects.
8. Friend List
Here you can see your friends and their levels, visit their farms, or invite new friends to the game.
9. Store, Exterior Decor, Barn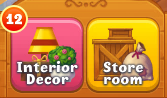 Through this menu you can check stored items and buy various things.
Store/Store room is the place where you buy seeds, trees, animals and their houses, and fertilizers;
Exterior/Interior Decor is where you get decorations for your farm;
Barn is where you can see all your stored items.
10. System settings

Settings allow you to turn music and sounds on and off;
Full Screen Mode allows you to play Dakota in full screen.