Greetings, Farmer!
Are you ready to play? We hope so! You can start your journey here.
In the blink of an eye you'll appear in Dakota! Start packing your things and get ready to move to your own farm!

Once you finish all the preparations, you'll leave your house and your adventures will begin.
As soon as you arrive to your farm, you can start playing fullscreen. Remember that you can always turn the fullscreen mode off by clicking this button in the main interface:
Unpack things and start farming. First of all, you'll learn how to harvest. Some carrots are ready to be collected!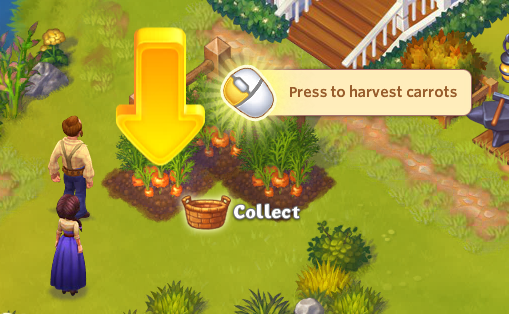 To harvest your crops, just click on them when they are ready. You can hold the left mouse button and move your mouse over all the crops to collect them more quickly.
Your next assignment is to learn how to plant.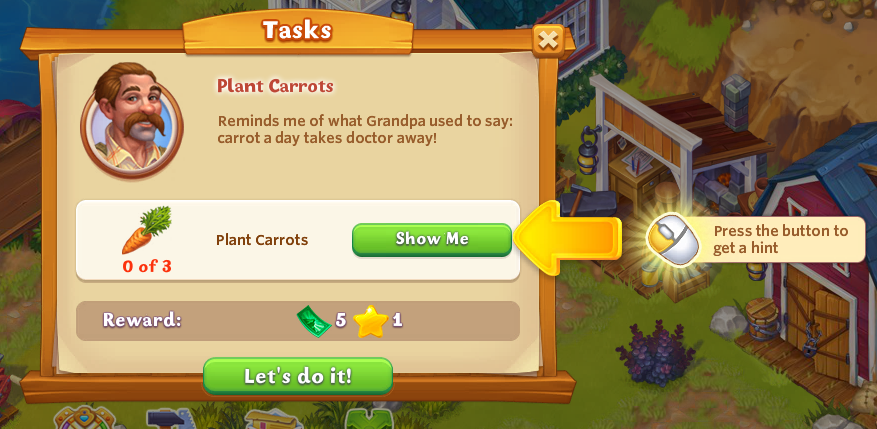 You'll start receiving quests from your relatives and neighbors. By completing them you'll be getting rewards: Green Bucks, Experience and sometimes, Energy and other useful resources. Just click "Show Me" button to find the items you need for completing quests.
Now, it's time to plant! You can plant by two ways:
Click on the garden bed and choose the plant you need;
Open Store, go to the Seeds tab and choose the plant.
Then just put the seeds into the chosen garden bed and wait until they've grown.
Read more about planting!
What farm can exist without animals? You can get some of them as well! To tame an animal, you need to build a house for it first. Then you can buy the animal in a special tab in the Store. You need to feed your animals to receive products from them. Don't forget to do in in time!
All animals can be fed only for a certain number of times. Then you will need to feed them with Vitamins to make them produce resources again.
Read more about animals!
Now, you are ready to complete orders! Visit your Order Board and deliver your first order.
The higher level you are, the more requests will appear on the Board. You can Decline requests: a new request will appear instead of the declined one in some time. Order are the main way to earn Green Bucks. Manage your time and actions to earn as much money as possible.
Read more about Orderboard!
Leveling up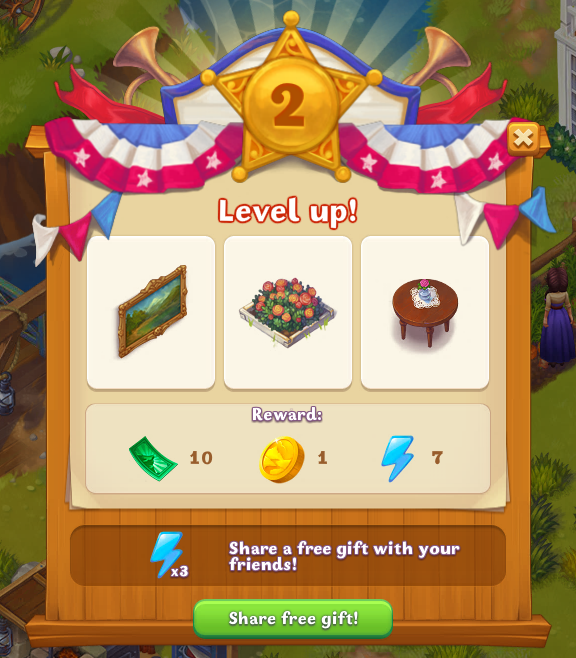 Every time you earn enough Experience, you'll get a new level. Each level gives you a special reward and unlocks certain objects in Store. Moreover, once you level up, all the planted seeds become ready to harvest, while Energy fully restores. Don't forget to Share free gifts with your friends: a gift appear on your Facebook timeline and your friends will be able to collect it.
Expansions
As your farm is developing, you'll be able to unlock new areas and expand the territory of your farm. Some areas contain special objects, such as Well, Beehive and so on. To open each area, you need a certain number of Prosperity points and certain items.
Expand your farm, get more lands to build on and new objects to interact.
Interaction with objects and obtainable resources
You can interact with various objects on your farm: grass, gravel, trees and so on. To do this, just place your cursor on the object and click on it. You can click several times, then your character will perform a series of actions — for example, will collect 3 portions of grass from a bush.
All the resources you collect on your farm are automatically added to your Barn, while the ones you get on a trip appear in your Wagon.
Resources you can obtain through interacting:
Buying items
You can get various items in the Store and use them on farm. To do so, just click the Store button:

Then pick the item you need and buy it with the respective currency. Note that some of the items will be available to you only after you reach a certain level or build a certain object on your farm. The items that are not available by level can be unlocked using Gold Coins.