Florence Blossom is a young florist whose talent is truly flourishing. She dreams about gaining universal acclaim and wants to show everyone – particularly her mother – that she is a grown-up and can achieve success. However, it's not all as smooth sailing as it may appear, and Miss Blossom needs your help.

Mother's Day is a huge game event with two stages, each lasts a week. You need to have at least a level 2 wagon to participate in it.
The First Stage
During the whole event you can collect event points, grow special plants and store up Flower Coins.
There are several ways you can get event points:
1) There is a new Order Board available: fill orders to get event points and coins. Please note that you need flowers and bouquets to complete an order.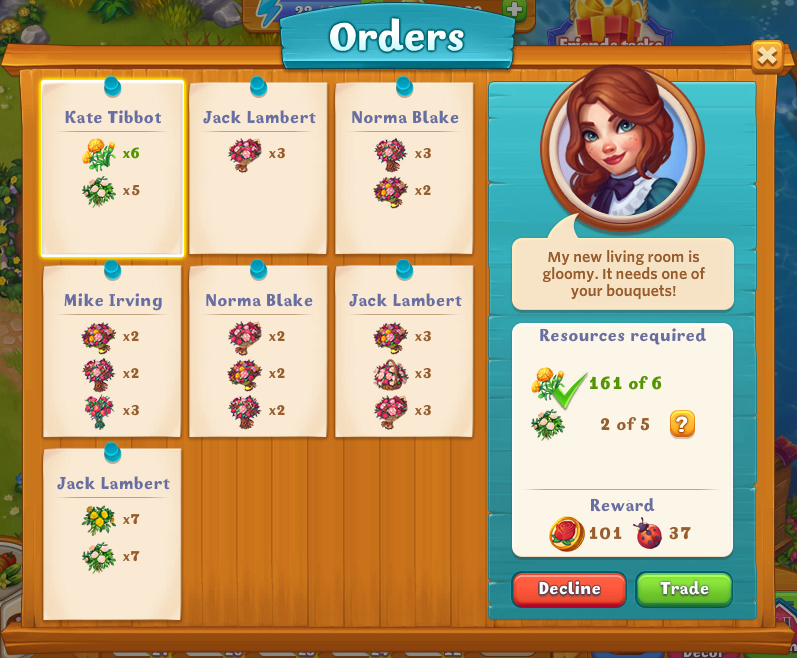 2) You can collect event points from a special garden decoration. This decor also brings you Prosperity.
Rest-n-Relaxation Lazychair

Event level: 2
Max quantity:
Garden Lantern

Event level: 3
Max quantity:
Rose Bush

Event level: 4
Max quantity:
Pigeon Pavilion

Event level: 6
Max quantity:
Mistress Spring
3) And finally, you can get points by growing special flowers. The higher your event level, the more new seeds are available for you!
Special Store
You need to spend the new currency on something! A special store is available where you can get various items and bonuses for event coins:


Unique furniture

5 types of talismans

Unique garden beds

Tree fertilizer
You can buy certain items in the store an unlimited amount of times, but others are only available once.
FYI, the store will also be active for three days after the event finishes.
Special Rare Items
From day one of the event you can ask your friends for new rare items that will come in handy during the event's second stage. We recommend stocking up on them in advance!
Your event level must correspond to the item's level:


Carpenter's Hammer

– level 4

Gardener's Trowel

– level 6

Gardener's Rake

– level 8
Important: these rare items have the same limitations as regular requests.
Flowers and Bouquets
You can grow new flowers at your farm: Carnations. There are three types of them:


Scarlet Carnation – level 1

Flamingo Carnation – level 3

Tiger Carnation – level 5



For growing these plants you get event points and resources you need to make items in your Workshop.
The Second Stage
You need roses to make the ideal bouquet. You head to the Rose Garden in hopes of helping the talented florist, and are bowled over to encounter someone you really weren't expecting to see there...
New Location
Back in the day the Rose Garden was blossoming with all kinds of lovely flowers, but now it's overgrown with grass and its garden beds and hothouses badly need renovating.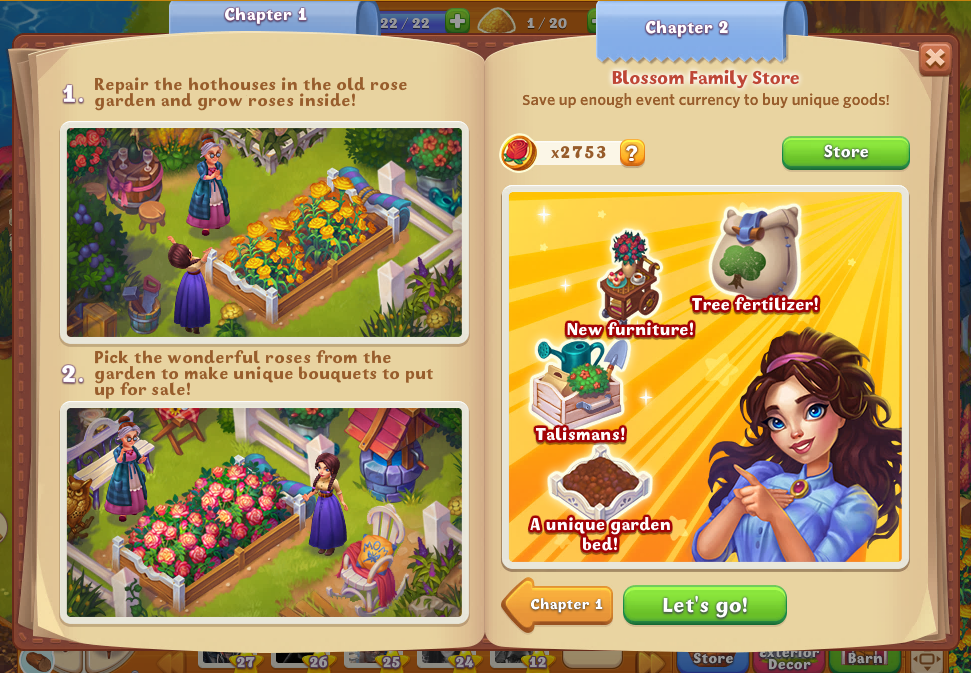 You'll find three types of structure in the Rose Garden:


Hothouses

Wells

Resource Objects
The hothouses and wells need to be renovated before they can be used. If your durability runs out, you will need to carry out renovation work.

The location is divided into sectors. To move to a new area, you need to unlock the path there. To do so you require regular resources and special rare items.
Flowers and Seeds
You can grow special flowers at the new location: Roses. To grow flowers, you need to plant seeds in a hothouse and water them, which sets a timer running. When it finishes you can collect the flowers.

You can get seeds by using resource objects and clearing away grass and special bushes.
There are only five types of seed that grow into the right types of rose.
You can always check whether your flowers in the Rose Garden have blossomed without leaving your farm. Just open the map and select the corresponding location.