Here's some information about Dakota's Easter event running from April 3–17. Players with a level 2 or higher Wagon can participate in the event.
Part 1
Your neighbor Molly Bloom needs help! This energetic lady is running a fabulous kids' Esther boarding school all by herself. Help her get the charity tokens she needs.
You can get these tokens in several ways:
            • fill orders during the event;
            • collect tokens from special holiday decorations;
            • get tokens from special characters.
Note: You cannot spend these tokens. However, your event level is increased as you get more of them. The higher this level, the more special decorations you unlock to build on your farm:
Chicken-Riding Rabbit

Event level: 2
Max quantity: 1
Bed of Carrots and Rabbits

Event level: 3
Max quantity: 4
Hen and Nest

Event level: 4
Max quantity: 1
Table

Event level: 7
Max quantity: 1
Chairs

Event level: 7
Max quantity: 4
Fountain and Rabbit

Event level: 9
Max quantity: 2
The event also features new rare items you can ask your friends for:
– Oil,
– the Saw, and
– Pruning Shears.
Note that ordinary rare items and Esther rare items are counted together. Stockpile them now!
Part 2
Time to head to the Esther boarding school! This special location can be visited by all players with a level 2 or higher Wagon. Help Miss Bloom's kids to get special prizes!
The Esther boarding school area is divided into 5 sections. To enter a new area, you need special rare items, special resources, and items you can create in your Workshop.

You can get special resources from the Materials Crates scattered around the boarding school's territory:
– Sticks
– Iron Sheets.

You'll also need the White Lily! The lily is a special plant you can grow in your garden beds.
 
In the second phase of the event, you'll get access to new recipes:
Festive Paint

Event level: 6
Components: Flax Oil, Lilies
Shovel

Event level: 8
Components: Iron Sheets, Stick, Lilies
Garden Rake

Event level: 9
Components: Shovel, Brushwood
Iron Bar

Event level: 10
Components: Iron Sheets, Stick, Festive Paint
Easter Eggs
The boarding school kids have a task for you: collect Easter Eggs and trade them in for collections.
 
Complete the collections to get talismans and items to help you complete certain buildings.
Talismans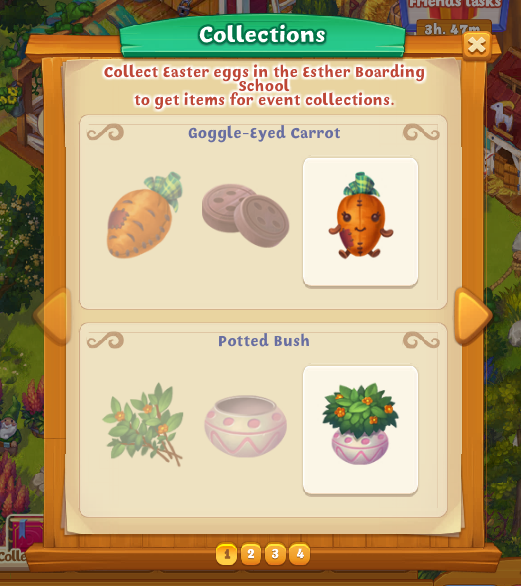 Talismans come in two types:
Plant bonus talismans make each planted plant produce a 50% bigger harvest. Note that the effect does not apply to plants planted before the talisman is activated.
Animal bonus talismans make each animal produce one additional unit of produce.
Talismans of each type come in two subtypes. Small talismans are only active for a relatively short time, while large talismans are active for longer. Elite talismans give a substantial bonus to both plants and animals simultaneously.
Broken Objects
The young residents of the boarding school need your help. Some of the objects at the school are broken and need to be repaired. For some, all you have to do is clear overgrowth. Others will require some real effort.
Each section of this location has several small objects and one large object. You can repair the large object after repairing the smaller ones.
To complete the repair work, you'll need special rare items, special resources, and items you can make at the Workshop.
As a reward, you'll get items you need to complete collections.
Easter Island

Easter Island is the grand prize of our April event. Build this object to get all kinds of resources.

The Easter Island object will be placed in your Barn when the second phase begins. You must place it on your farm to use it. Easter Island must be upgraded and remodeled, and this requires rare items.
You can start interacting with it once you have upgraded it to level 4.

This object has a durability level. When it runs out, you'll need to use ordinary rare items to repair the object.